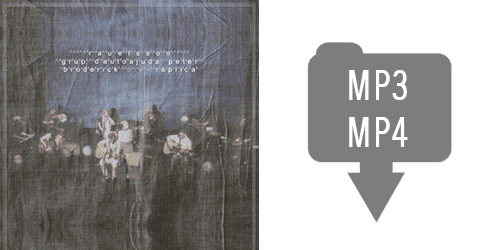 Exclusive! Download the separate audio and 720p video files of this stunning performance. Free, or support the artist with a suggested donation. (We only ask for you to provide the details for a customer login to demonstrate how our download shop works.)
The last couple of years have been busy for Raúl Pastor Medall (aka Rauelsson). While things like relocating to Spain, touring in Japan, welcoming his first son, Oliver, to the world, working on an instrumental piano-influenced album (to be released later this spring), were happening, Raúl found the time to get together with the improvisation ensemble Grup d'Autoajuda and gave form to a live version of Réplica, in its integrity. They performed this live version of the record on several occasions in Spain, including the Tanned Tin Festival. One of those shows was especially remarkable as they were honored with the presence on stage of Peter Broderick, the other mind behind the creation of Réplica. Luckily, the performance was nicely captured and recorded, and Raúl has decided to offer it as a welcome-2013 gift to you all. Of course, if you feel grateful and want to give back, you can support.
Réplica Live was performed at Teatre Municipal de Benicàssim, Spain on June 10th 2011, and has been mastered by Nils Frahm at Durton Studio, Berlin, on December 2012.