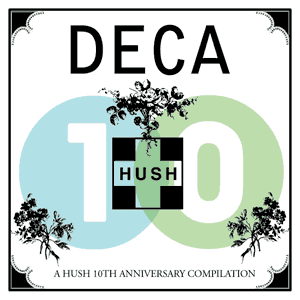 Happy Birthday…to us!
We are delighted to share this party favor with you: DECA: A HUSH 10th Anniversary Compilation. It's a rare snapshot of an invigorating cross section of artists mostly calling Portland home. The majority of its 28 tracks (tracklist below) are previously unreleased, and it features a 36 page pdf booklet.
One note: Should you opt for the convenient, high quality zip download you'll find you're given an opportunity to pay an amount of your choosing for it, with the proceeds to go to funding a retreat for the artists who participitated. Songs are the richness of our community and we enjoy sharing them. It is an increasingly rare and meaningful gesture–which does not go unnoticed–when one is willing to pay for them of their own volition.
DECA: A HUSH 10th Anniversary Compilation
Click here to easily download the FULL COMPILATION zip file with pdf booklet (and 2x higher quality mp3s).
Or download the pdf booklet only (5MB).
Album 1
"Come By Storm" – Laura Gibson
"The Afterlife Pt. I" – Run On Sentence
"Coo Coo Bird" – Shelley Short
"Hiding Home" – Norfolk & Western
"Space And All Dead Things" – Corrina Repp
"Elephants & Little Girls" – Loch Lomond
"The Wagoner's Lad" – Colin Meloy
Album 2
"Petting Zoo" – Solid Home Life
"Ridin' For A Fall" (Young Dub) – Bobby Birdman
"Asleep At The Wheel" – Casey Dienel
"The Bane Of Progress" – Jeff London
"Flight Cub" – Velella Velella
"Elysian Fields (We're Dead, We're Dead)" – Parks and Recreation