Biography
Norfolk & Western started as a recording project early on in this century by Adam Selzer , who also plays guitar and bass for M. Ward. Adam is also responsible for recording all the N&W titles in his Portland, Oregon studio, Type Foundry Recording, where he has produced numerous records from many artists since 1998.
The first Norfolk record, Centralia, consisted of folk, atmospheric, and rock songs wherein Adam played most of the instruments himself but was duly aided by friends including Amanda Lawrence (viola), M. Ward (piano, guitar) and David Welch (bass). Soon thereafter, Rachel Blumberg (currently drumming for M. Ward, former Decemberists drummer) joined the band and became a pivotal element to the following record, Winter Farewell. Rachel sang, played drums, piano, vibraphone, and many other instruments. Many of the record's songs were written in true collaborative form. She became a paramount addition to the live show, which included David Welch on bass, Zak Riles on banjo and lap steel, and Tony Moreno who supplied the atmospheric sounds with contraptions he hid behind an old 1940's radio cabinet. Winter Farewell itself was more eclectic and experimental than its predicesor. It was moody and dark all the while maintaining the band's folk roots.
After this release, Norfolk embarked on a few west coast tours, and a three week European tour supporting Sparklehorse. While the first two recordings on the Film Guerrero label, the next record, Dusk in Cold Parlours, was released on their current label Hush Records. This batch of songs was more focused and included increasingly elaborate arrangements than the previous albums. The collaboration within band became more apparent on Dusk, which included many "full band" songs as well as more sparse, solitary endeavors.
After the release, Adam & Rachel toured as a duo throughout the U.S. with The Decemberists. A year long hiatus ensued, then Norfolk toured for a few months with M. Ward in Europe and the U.S. Upon their return home, they went back into the studio to record their more pop oriented e.p. A Gilded Age which was released in the spring of 2006. Dave Depper had become the regular bass player whose musical prowess and McCartney-esque bass style dramatically changed the sound of the band. Shortly thereafter, Peter Broderick became the multi-instrumentalist (violin, banjo, musical saw, accordion, mandolin, theremin) the band came to rely on. This quartet constituted the touring act when they supported DeVotchka on a nationwide tour last summer.
Since then, they recorded a full length for an October 24, 2006 release entitled The Unsung Colony. The record incorporates the touring line-up as well as collaborations with Cory Gray (trumpet, piano), Amanda Lawrence (viola), and Tony Moreno (guitar). The band sometimes plays live with all the aforementioned players. This septet is indicative of the sound on their most recent release. It is epic in scope with ambitious arrangements. The band will be embarking on a nationwide tour in November '06 to support their new release, The Unsung Colony.
Discography
The Unsung Colony
2006


A Gilded Age
2006


Dusk In Cold Parlours
2004


Winter Farewell
2002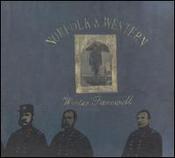 Centrailia
2000