Complete Love For Completists.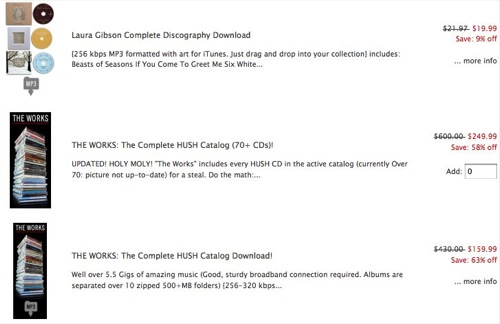 If you are the kind of person that must collect everything by the artist that catches your ear, or the label that snags your heart, this is a love letter to you.
We've just added all manner of digital bundles to our collection of, shall we say, bundles concrete.
Most notably our surprisingly popular "The Works" Complete HUSH catalog listing has been brought into the digital age with a whopping 5.5+ gig music download of well over 70 albums at a stupifying 63% discount (that's 90 bucks less than the CD version and no hefty shipping fee.).  Look for more from Laura Gibson, Loch Lomond, Nick Jaina, Norfolk & Western, Kind of Like Spitting, Blanket Music, & Graves