Doing it better + Laura Gibson limited EP out now.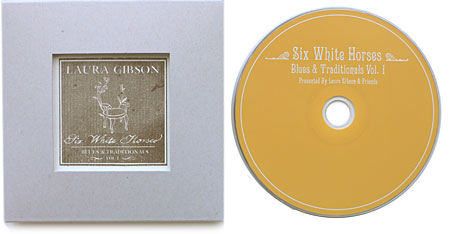 We're very pleased to announce that if you buy any CD from the HUSHshop, you now receive a FREE album download as well, on the spot. No waiting for Mr. Postman to listen to the music, while at the same time retaining the joy of the parcel, the artifact, the liner notes, the art, and the superior sound quality. Here's the kicker: we do it for less than iTunes! CD in the mail and instant download: $9.97. Hot dog!

Or if you like, just choose the Download only, on any title, and we'll knock a couple bucks off.
The new shop is pretty spiffy, and scheduled to get spiffier. (Look for easy to audition song samples rolling out soon.) But, again, if you haven't familiarized yourself with our podcast, it's a great way to test drive our albums out in the field, away from the computer, where music often sounds a bit better. We just put up an enhanced sampler mix (just click subscribe in iTunes) of exquisite new Laura Gibson EP, Six White Horses which is now available in the HUSHshop. This release is limited to a few hundred leftovers from her recent tour. A collector's piece to be sure.
We're so hyped about this we're pulling another first: use the coupon code hushluvsu for 15% off your entire order in the month of May. Use it wisely: limit 1 per customer.
Thanks for sticking with us!