HUSH 10th Anniversary Show Saturday July 12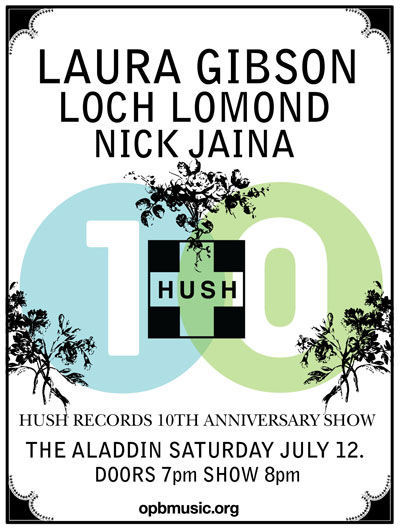 Laura Gibson, Loch Lomond, Nick Jaina, all bringing their A-games. Join us.
July 12th is a very special day for HUSH. It's the first time a bill of exclusively HUSH acts plays a larger venue in our hometown. If you live in the Portland area, we hope you'll agree that in many ways this is the perfect venue for these HUSH artists: classy, comfy, and cool. It's a big venue, but we'd hate it if you missed out for any reason: Tickets are available at The Aladdin Box Office and Ticketmaster. Sponsored by OPBmusic (In House host Jeremy Peterson will emcee). $10 adv, $12 day of show.
Also, we will be releasing a HUSH 10th Anniversary Compilation. We have been planning this for quite some time, but as these things go, we are racing to pull it all together, so a tracklist is not yet available. Nonetheless we expect this FREE album download might grow to double album size. There will be tracks from new and old HUSH roster artists, and it will feature a .pdf booklet. Tentatively out July 7th. Stay tuned to the website.