Norfolk & Western serves up Dinero Severo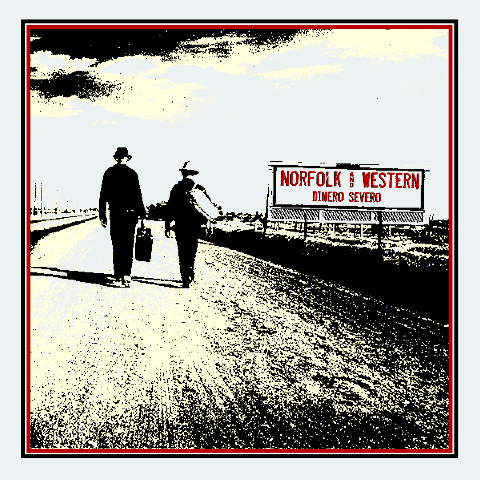 Big news from The Norfolk & Western camp:
After spending the better part of the year touring with other folks (Adam with M. Ward, Rachel with Jolie Holland & Mirah, Dave with Jolie Holland & Loch Lomond), we have completed our record and are driving to your town! (Depending on where you live).

Regardless of your whereabouts, we are proud to share with you our new album Dinero Severo.
And they mean it.  Head on over to norfolkandwestern.org to stream the new album in its entirety, basking in it's dulcet tones and occasional, well placed cacophony. (All you need to do is sign up for their newsletter.)

We recorded it over the last couple of years, mostly in our hometown of Portland save for a few songs which were tracked in Puerto de Santa Maria, Spain. See, not only the fancy bands get to eat Manchego, drink copious amounts of Spanish wine and roam the beaches where Columbus set sail to discover India.
We will be streaming the record here on our website through October while we head out on tour with Mirah.
Tour Dates (w/ Mirah)
09-30 Fargo, ND The Aquarium
10-01 Minneapolis, MN Cedar Cultural Centre
10-02 Madison, WI Orpheum Theater – Stage Door
10-03 Chicago, IL Shubas (2 shows)
10-04 Detroit, MI The Guardian Building
10-06 Toronto, ON The Mod Club
10-07 Montreal, QC Il Motore
10-08 Burlington, VT Higher Ground Lounge
10-09 Somerville, MA Somerville Theater
10-10 New York, NY Bowery Ballroom
10-11 Philadelphia, PA World Cafe Live Upstairs
10-12 Charlottesville, VA The Southern
10-14 Decatur, GA Eddie's Attic
10-15 Nashville, TN Mercy Lounge
10-16 St. Louis, MO Biliken Club
10-17 Lawrence, KS Jackpot Saloon
10-19 Denver, CO Walnut Room
10-21 Salt Lake City, UT In the Venue
10-22 Garden City, ID Visual Arts Collective
10-24 Portland, OR The Woods