Wool & Jason Leonard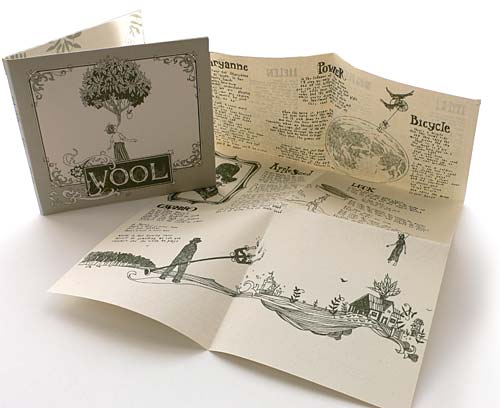 First order of business. Wool is now shipping from the HUSHshop. Go there now and buy it. Gauranteed to kill you softly or your money back.
Next, let's take a moment to take in the visual splendor of this release and give artist/musician/poster restoration expert Jason Leonard a proper shout out.
Not only does he play glass and steel bowls, wine glass harp, pitchforks, glockenspiel, resonator bells, leaves, belleplates, percussion, vibraphone and the like, but he turned in some delightful illustrations, including the cover for Wool. Who knew this mild-mannered multi-instrumentalist was so multi-disciplinary?
It doesn't stop at illustration. Check out his myspace for animations and more music!
ps.
Rumor has it a collaboration with Laura Gibson may be in the works. Keep your browser trained on this here (new, did you notice?) site for developments!