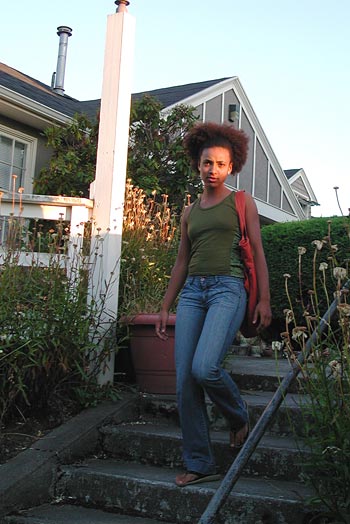 Born in 1984 Esperanza Spalding, bassist, singer and composer, began playing in small jazz and blues venues around her hometown of Portland, Oregon. Soon she joined "Noise For Pretend," an eclectic jazz and pop fusion band for which she sang and played bass. The group signed with Hush Records, which released two albums of their original compositions. Spalding continued to branch out, playing with the jazz groups as well as leading her own septet, trio. In 2002 she joined the hip-hop group Black Science Tribe, which gained a sizable following touring along the West Coast.
Since moving to the East Coast, she regularly works as a freelance bassist, and singer locally and internationally. Spalding has worked with such notable jazz artists as Michel Camilo, Dave Samuels, Mark Walker, Byron Stripling, Regina Carter, The Boston Pops Orchestra, Pat Matheny, Bill Stewart, Teri-Lynn Carrington, Adam Rogers, Seamus Blake, Patti Austin, and performed solo singing and playing as the opening act for Bill Cosby. Spalding has toured with Joe Lovano, performing music from his Grammy award winning album "All for You", and Patti Austin playing music from Austin's Grammy nominated album "For Ella". The "for Ella" tour, which again launched in 2004 included performances in New York's Prestigious Lincoln Center, and the Lugano Jazz Festival in Switzerland. That is to say, she is a real player.
In 2005 Esperanza returned to Portland to record an eclectic collection of pop songs with writer/producer Chad Crouch.  These sessions may finally see release in 2008.