Peter Broderick – "Home" out today.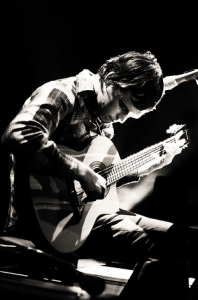 Many know Peter Broderick as one leg of Horse Feathers. Many others have noticed him as a bright star in the Efterklang troupe. Still others know him as the young composer to watch, establishing himself with two instrumental releases on the respected Type label. Beyond that, he has cut his teeth touring and performing with Loch Lomond, Norfolk & Western Laura Gibson, and contributing to the recent She & Him record.
But today we hear Peter's voice for the first time. Of all the instruments Peter has at his disposal for this recording he has picked only two: vocal and guitar. Amazingly, Peter has turned this most pedestrian arrangement into someting time-worn and beautiful. Words fail.
Home is an album that is designed to be heard front to back. This album sampler will give you an idea:
Peter Broderick – Home Album Sampler

Home is an album you will cherish. Get it in the HUSHshop ($9.97 CD+download / $7.97 download only)
Peter has been warming up rooms for Efterklang for the past few weeks all over Europe. This video finds him in Kolding, weaving his tapestry of sound.