Broderick to Headline EU Tour, Play Fests, Release Music.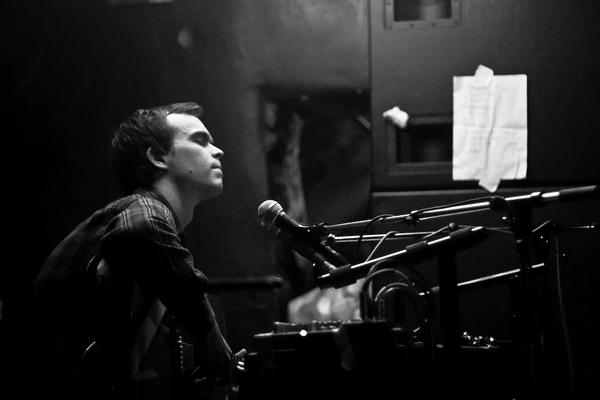 photo: Tom Platten-Higgins
The pace is not letting up for Peter Broderick, who will spend about 90% of 2009 on tour.
Nonetheless, he found time recently to release a very limited edition cassette concisely entitled Ten Duets which sold out shortly after it was announced. Digitalis Industries generously offers up two mp3's what fast became a collector's item:
(Peter also has two others posted on his Myspace.)
Miss out?  Take heart:
"I will have a bunch of smaller releases this year! Already confirmed are a 3″ CD on a small Italian label, a CD release of my score for Falling From Trees, a reissue album of some old 4 track recordings, and a collaborative full-length album with one of my favorite musicians working today, Machinefabriek."
In addition Peter's European label Bella Union has a 7″ release on deck, and something else I've heard of which appears unannounced as yet.
Speaking of media, the most recent episode (Ep 18, Season 5) of Grey's Anatomy features Broderick's "With The Notes In My Ears" from Home. Scoring the final chapter montage, the song adds tenderness to a rather steamy sequence.  For the curious, it can be seen at abc.com.
Lastly, in Broderick related news, a few Portlanders were lucky to see the Peter's sister Heather Broderick play an intimate set of her own music under the name Heatherwoods with Peter's accompaniment last February. Her Myspace suggests she is still working on a debut album which is rumored to (at the very least) have a home in Australia on the young Preservation imprint:
httpvh://www.youtube.com/watch?v=V61ZwHQSeW4
httpvh://www.youtube.com/watch?v=mIazz4HMAKo