Peter Broderick: Hometown Hero (The Big Post on Peter)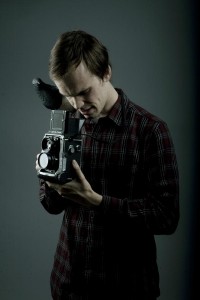 I nominate Peter Broderick Hometown Hero.
For a city that congratulates itself for being indie music Valhalla, and hyper-self-aware, it's surprising that Peter Broderick has largely escaped attention in our local press. Perhaps because he's spent more time in Denmark or on tour for the past couple of years, he's not been visible on the scene. Nevertheless, his contribution to Portland music is practically peerless (excepting friend, and at various times bandmate, Dave Depper). I submit:
Exhibit A: Appearances and collaborations, Abridged to Portland Acts.
M. Ward – Hold Time (2009, Merge/4AD)
Horse Feathers – House With No Home (2008, Kill Rock Stars)
She & Him – Volume 1 (2008, Merge)
White Hinterland – Phylactery Factory (2008, Dead Oceans)
Loch Lomond – Paper the Walls (2007, Hush Records)
Dolorean – You Can't Win (2007, Yep-Roc Records)
Loch Lomond – Lament for Children EP (2007, Hush Records)
Laura Gibson – If You Come to Greet Me (2006, Hush Records)
Norfolk & Western – The Unsung Colony (2006, Hush Records)
Horse Feathers – Words are Dead (2006, Lucky Madison Records)
Norfolk & Western – A Glided Age (2006, Hush Records)
That is a mad decent portfolio. And that would be enough. That would be hero criteria right there. But that's just back story." While in town recently, Peter played a handful of dates as a solo act, sampling from his three solo (!) album releases of the past 18 months (including Home, his vocal debut, on HUSH" Peter Broderick – Home sampler mix) while on a mini tour with friends, Austin's Balmorhea." The venues in town included the chapel at Reed College and the relatively humble Alberta Pub." He played his strengths to both rooms like a seasoned stage veteran (which he is, owing to whirlwind world tour schedules with Danish sensation Efterklang and a diverse touring history with Horse Feathers, Loch Lomond, and Norfolk & Western) overcoming technical hiccups, the din of the bar, and playing Reed's acoustic grand piano with his trademark mix of restraint and drama:
Exhibit B:" Solo Performance Documents
"Begin" (with surprise)
Unknown piano composition.
"Below It" from Home
(An evening's worth of HD video here.)

That's not all." I can't think of better proof of living & breathing music, than this off-the-cuff video series dubbed "Songy" that Peter silently slipped on to YouTube a few weeks ago while spending some time at home with family (including wonder-twin extraordinaire Heather Woods Broderick) in Yamhill County and Portland.
I'm not sure this a wholly original concept, but what we have here are multi-tracked YouTube videos which appear to feature Peter fresh out of bed in his PJs knocking out a little song about travel and songwriting; a rough ode to the guitar he will have to abandon again, and a message to loved ones. And it's likely largely unrehearsed (He's been dubbed The Whipper Snapper, and The One Take Kid for his studio performance acumen.) For keywords Peter chose "peter broderick" and "bad", with esoteric descriptions like "music is definitely weird" and "i don't know". We get that this is not his usual fare, nonetheless it's surprisingly tender, candid, endearing, clever, and catchy. Have a look:
Exhibit C: "Songy" Series

And finally, I submit to you, both Portlanders and citizens of the world, Peter may already be nearing that tipping point where the sidestream meets slipstream." Peter's solo output may soon eclipse his performance contributions to bigger acts." Across the pond, Home has received big print accolades, and Peter is charting a course for headlining tours of the UK and European continent later this year." Before that though," North Americans will have the rare treat of seeing Peter perform a solo set before joining Efterklang on stages from coast to coast this spring ." Don't miss it (dates on sidebar)!
Exhibit D: The UK is about the size of Oregon on a map." Will we let them take all the credit?
"No needless virtuosity; no clever sonic treatments; no unusual instruments." We stumble on moments that recall the magnificence of Simon & Garfunkel at their peak, or David Pajo at his most ambient, and we don't care how long the search takes. " (5 out of 5 stars) – Sunday London Times

"On the second listen it sounds like a future classic. " – Mojo

"The pinnacle is the tidal rhythms of 'Sickness, Bury,' but there's plenty more here to admire and absorb." – Uncut

"This is a work oft-enchanting and tenderly relayed: the sound of a first hand both confident and considered, whetting the appetite for more from this young American with a stately flourish. " – Drowned In Sound