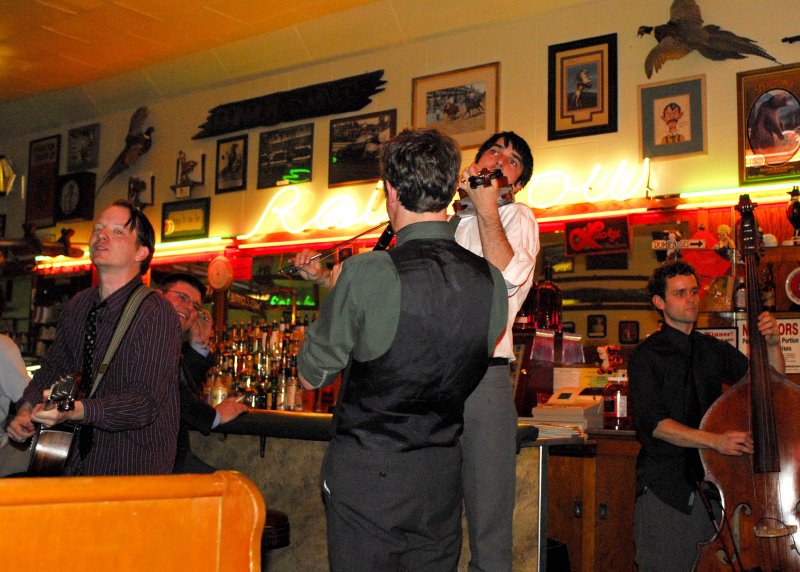 in Pendleton, Or.
Nick Jaina's stock is up.
The band reports 90% "great to amazing" shows, 10% "okay". Perusing past tour journals might give one the impression he's payed his dues for it. Good show lads. Godspeed.
Before Nick left he played a solo set and answered some questions as a guest of Willamette Week's Portland Lounge Series. Unfortunately the recording is decidedly lo-fi and the audio for the interview segment was tossed due to technical difficulites. Nonetheless, if you're feeling curious have a listen. There's some nice performances of rarely-played songs beneath that hiss.
For the hi-fi experience we would again draw your attention to the OPBmusic set. A must!
Meanwhile the accolades mount:
"Nick Jaina's incredible new album Wool leads me, with every new listen, deeper into a strange, insular spell. From the stately, ornate piano line that opens the recording, to the final sounds of creaking oars, restless crows and hazy radio transmissions, the blues-based songs are eerie, dreamlike, and demand repeated listen. " – Redeviva Magazine
"His slow-burn tempos speed up my pulse waiting for the shoe to drop on almost every song." – Perfect Porridge
"The cumulative effect of the staged/natural ambience, lo/mid/hi-fi recording styles, New Orleans, Tom Waits and Chopin is Tim Burtonesque in its magic: strange, moving, and oddly serene." – The Inlander

"From the opening dark piano chords of "Maryanne" to the rock-you-to-sleep melody of the "Lonesome Blues" Wool is a stunningly impressive achievement. Ranging emotions from loss to love, sweetly innocent but still achingly distant, the album flows with rare grace. " – OU Daily
"A piano heavy album that feels almost like watching a movie to hear." – Fifty Foot Shadows